Here are a few examples of forced induction applications that have used our Dual Flow PCV valve.  Don't hesitate to contact us at support@mewagner.com as you plan the crankcase ventilation system layout of your next project!
---
Hi Matt! My bucket has a 350 SBC with a Potvin blower and port EFI. I tried all kinds of PCV systems; breathers, hose to air cleaner, fixed orifice to manifold, but all of them had some problem. Breathers oiled the motor and firewall, the fixed orifice (just a pinhole) fouled the plugs. I knew aftermarket PCV valves were a crap shot; the calibration is unknown and my engine has such high vacuum that the valve might never open. I followed the procedure to calibrate the Wagner, and used a clear hose to see if any liquid oil was being sucked out. Now my plugs are clean, no more oil on the car and idle is smooth.
The Wagner is on the right valve cover and a filtered breather on the left valve cover provides fresh air. I've thought about a hose from the left breather to the air cleaner to suck fumes at idle, and might do that with a clear hose just to see. I like to experiment. The whole car has been an experiment! Folks said you can't do port EFI with a blower, that the motor wouldn't cool with the radiator in the back, that rack and pinion steering wouldn't work with a tube axle. Happily I managed to do it all.
I've attached a few pics. I have lots more, if you see anything you'd like to know more about, just ask and I can swamp you. Another unique feature is the Halibrand QC IRS. Very rare, only a few were made for sprint cars and Indy cars, and I'v never seen another on the street.
Thanks,
Kerry Smith
Woodbury, MN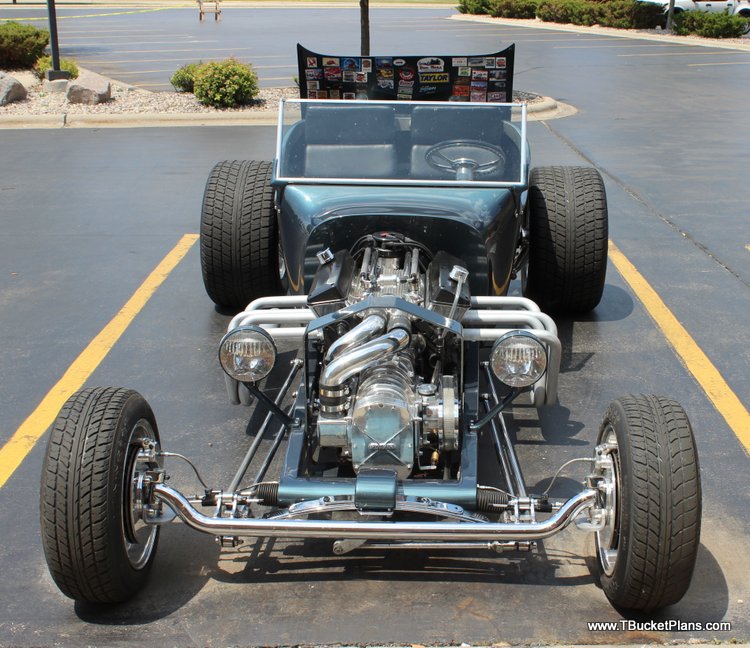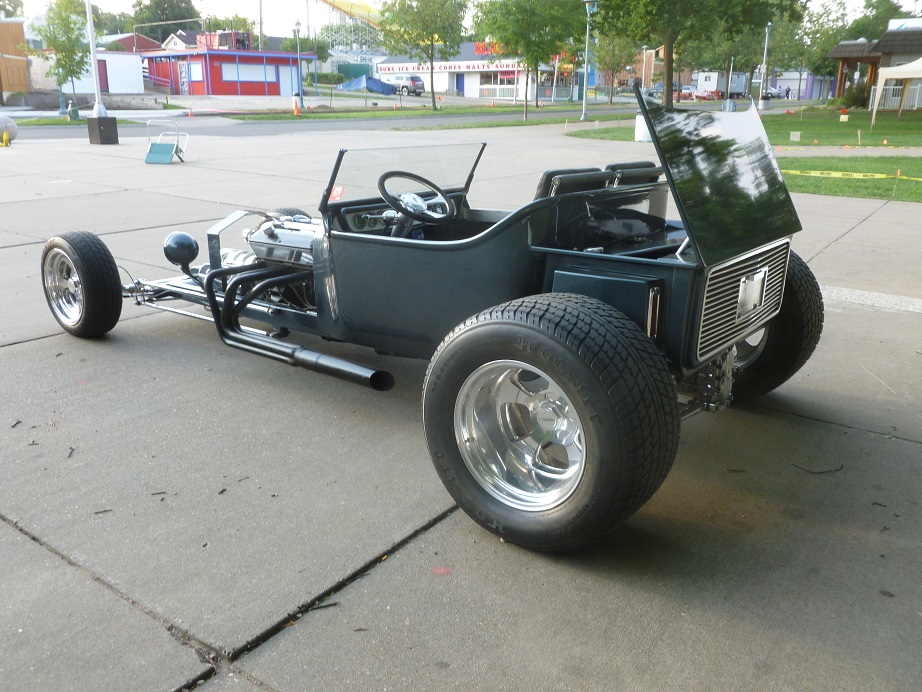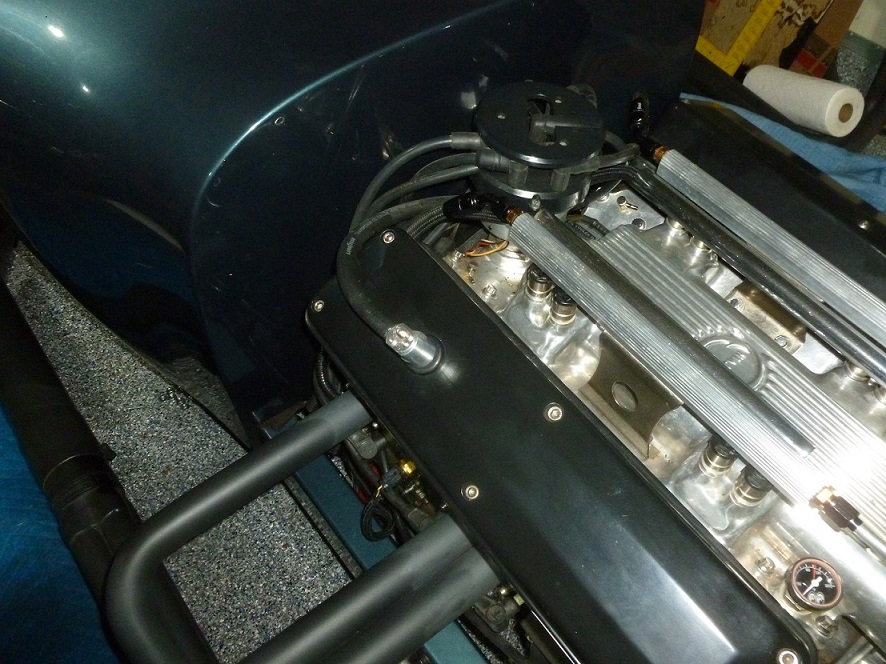 ---
Gene, want to thank you for all of your help.
When I first saw your ad in the Good Guys Magazine, I was skeptical that a PCV Valve could be the cause of so many problems. I was experiencing several of the same issues and never suspected the PCV Valve.
If you remember when I called, I had several questions, which you answered with solid explanations. I took a chance and purchased the valve. I'm glad I did.
First let me tell you about my car and then about the problems your valve fixed.
My car is a 1934 Chevy Phaeton, and with a lot of help from friends in my car club, we completed a 3½ year build, from the ground up. It has won numerous Best of Shows and was one of the top ten cars in the country, invited to the Grand Nationals AMBR (Americas most beautiful roadster) Show in Pomona CA, where in 2014, it won for Best Paint.
Now about the engine. People have said it looks like a piece of jewelry. It was designed to be a full-blown show quality engine. It's a 454 GM big block specifically built, with low compression 7.5:1 at idle with a 671 blower, and twin 750 cfm Holly Carbs. It was dyno'd @ 700HP and 665 ft. lbs. of torque, and at 3100 RPMs my compression jumps to 14:1. The engine has a long lope at idle and my vacuum reads from 10 to 15 inches on each four turns of the crank. Because of this, I had to set up the dual flow valve with a fixed Orifice Mode.
My problems were mnly oil leaks, not always in the same place, breather cap blow by, erratic and hard to adjust idles, dirty oil and moisture issues. The first improvement I saw immediately was the engine idle was smoother and easier to adjust. My oil always looked like it needed changing after 100 miles. I have 300 miles on the new valve and the oil still looks new. I don't see any evidence of moisture around the bottom of the PCV Valve and so far, no oil leaks are present.
Some tips on the installation. I purchased the Morosso oil separator, M/O 85474, with the bottom drain valve, which makes draining very easy. I installed a tee in the piping where I can connect a vacuum gauge, and I machine polished every part that went into this install.
Rich Chiarenza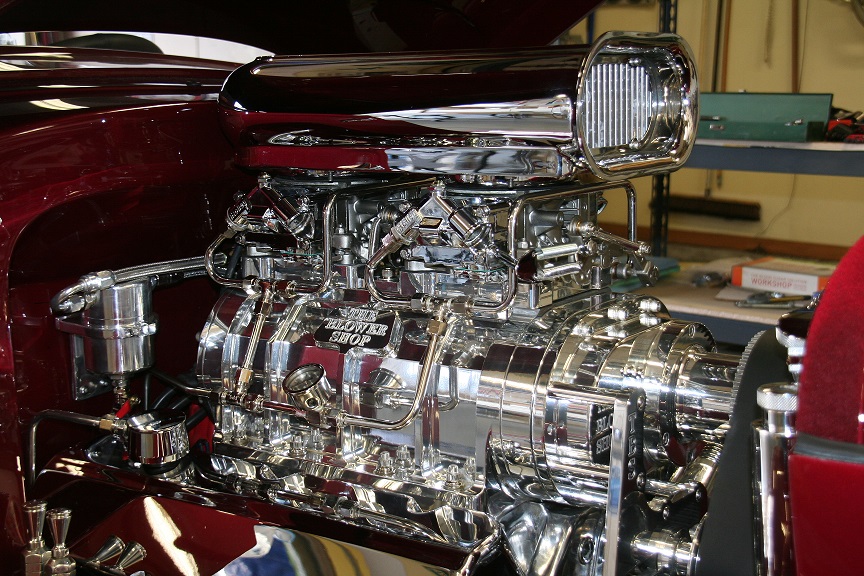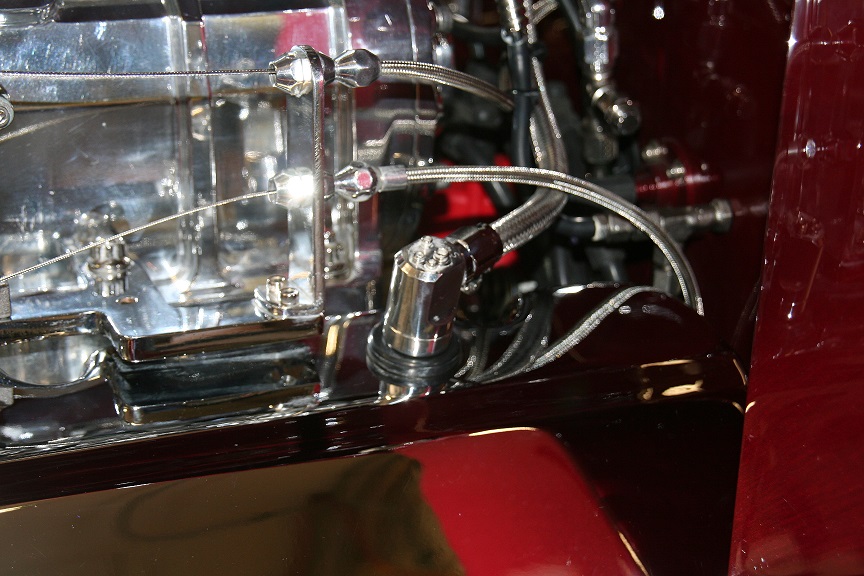 ---
I wanted to write you and tell you how pleased I am with your valve, it made a huge difference on my supercharged Camaro. It actually lowered my AFR 1 whole point and totally got rid of my pesky valve cover leak.
David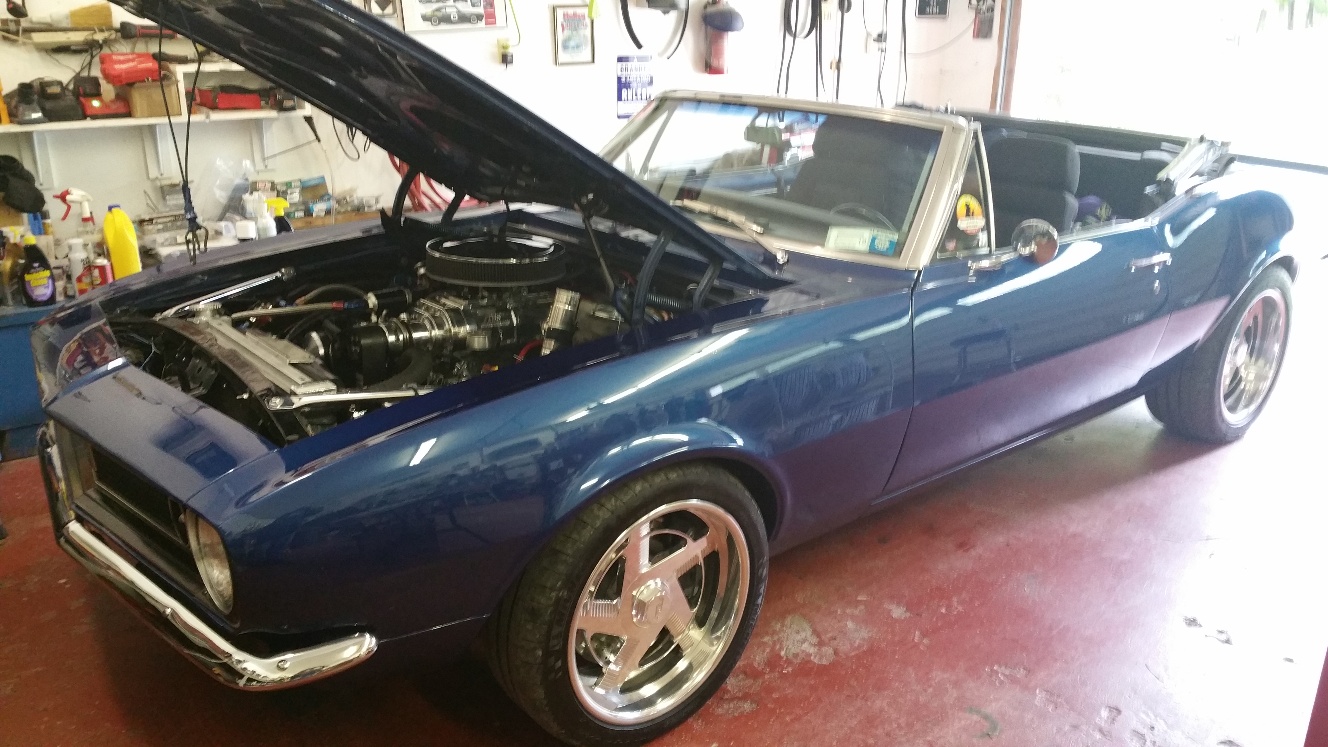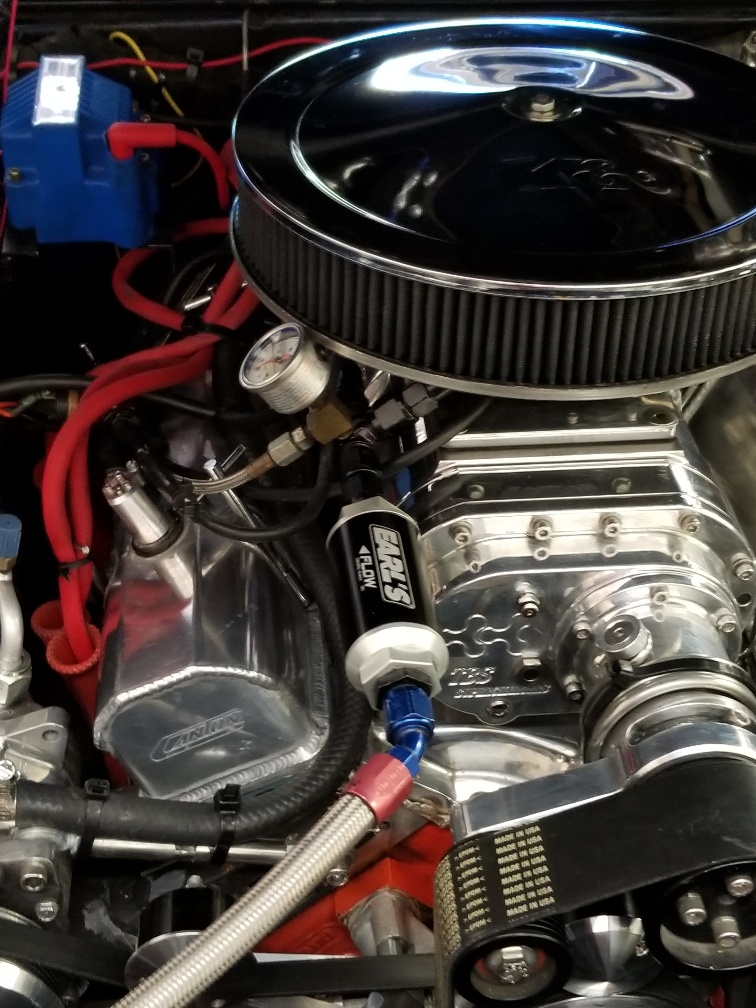 ---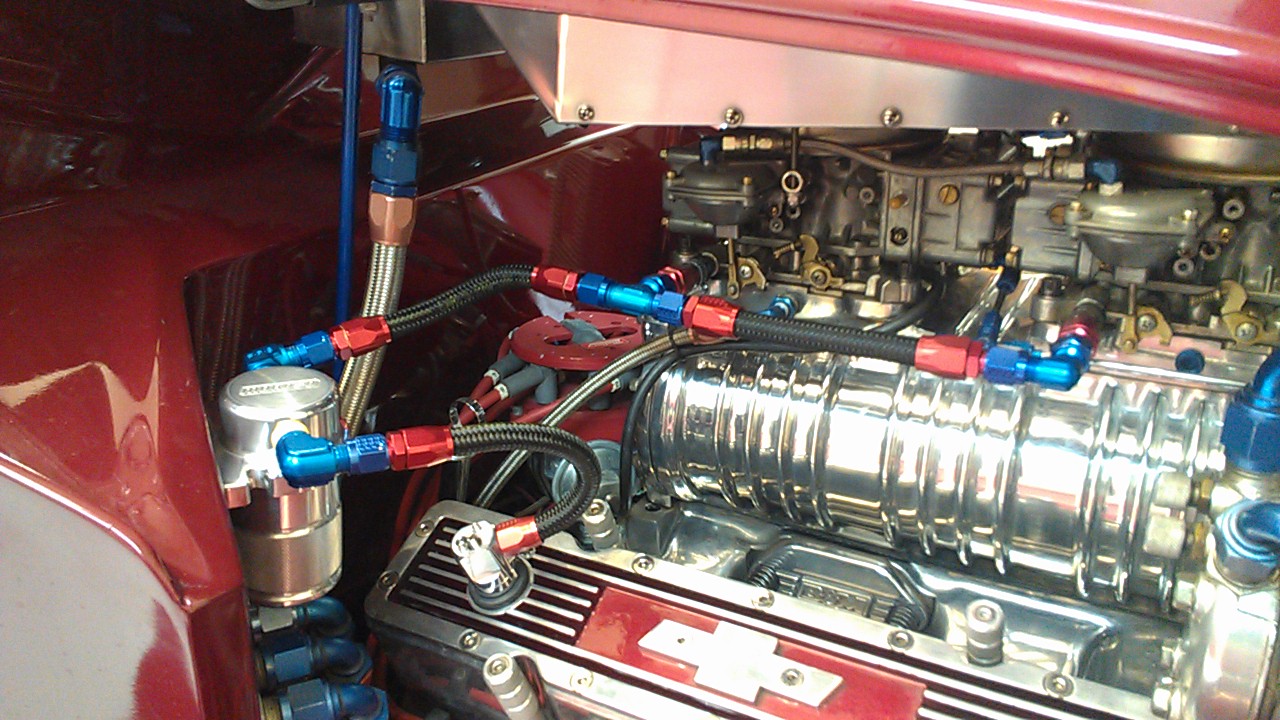 ---
See more Customer's Rides:
Click here to go to fuel injected applications